A quick catch-up with the Samoan Prime Minister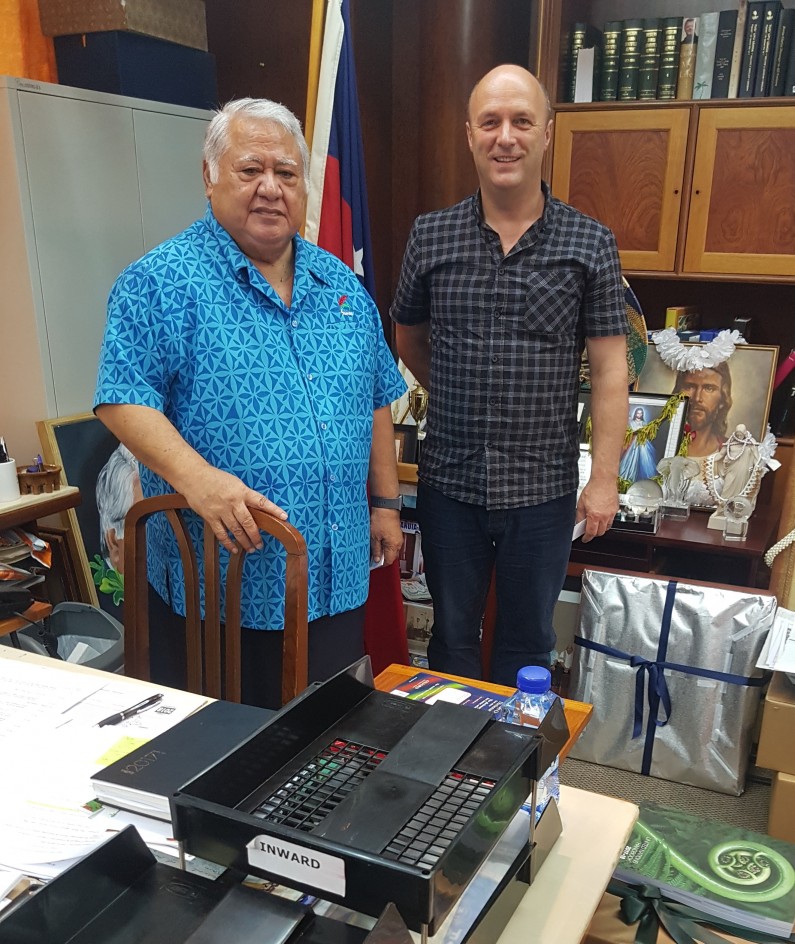 A quick catch-up with the Samoan Prime Minister
The excellent working relationship between Central Government and private business
Digital Signs is pleased to announce the commencement of our joint venture relationship into Samoa. This week was my first visit to Samoa and I have to say I was extremely impressed. Samoa might be the Pacific's best kept secret.
For those of you who have not visited it is a 'must see'. I was very impressed with how clean and fresh the area is. All of the locals were happy and relaxed. It would be fair to say I could not see 'stress' anywhere – do I really need to fly back to New Zealand?!
As most of you know Samoa was recently awarded hosting rights to the 2019 Pacific Games. The region is already well set up to do this, but how much better would it be showing vibrant and in-depth video to all those incoming international visitors of what Samoa has to offer?
I am pleased to announce that Digital Signs is going to play a big part in making this happen. Combining our technical skills and superior supply lines with the local knowledge of our JV partners means a win-win to all. Just in case you were in any doubt, unless it is win-win with our customers then Digital Signs does not do it!
This month the new airport terminal is opening at the Falelolo International Airport and this is going to be stunning. I was lucky enough to do a 'walk through' in the final stages and I can safely say it is world class.
One of the things I found unique to Samoa from the many countries I have done business in, is the excellent working relationship between Central Government and local business. Perhaps in part due to the standing of our JV partner, but also due to the 'open door' policy of Government, I was fortunate enough to be able to share our product and business plan with several Ministers including the Prime Minster himself (the honourable Mr Tuilaepa Fatialofa Dr. Sailele Malielegaoi).
I was impressed with how 'in-touch' and 'aware' the Government is of local issues and what is needed to move forward.
If only other countries could achieve this level of openness and communication with those wanting to do something new?
Samoans' know a good thing when they see it and I was really impressed with how progressive they are. We had really good talks and our first screens are due to be installed in the first quarter of 2018!
If you intend to travel to Samoa yourself, the lava-lava with sandals is the accepted standard of dress. I have to say I found it much more comfortable than the jeans I had been wearing so make sure you have one before you depart.