LED Screens - An exciting new product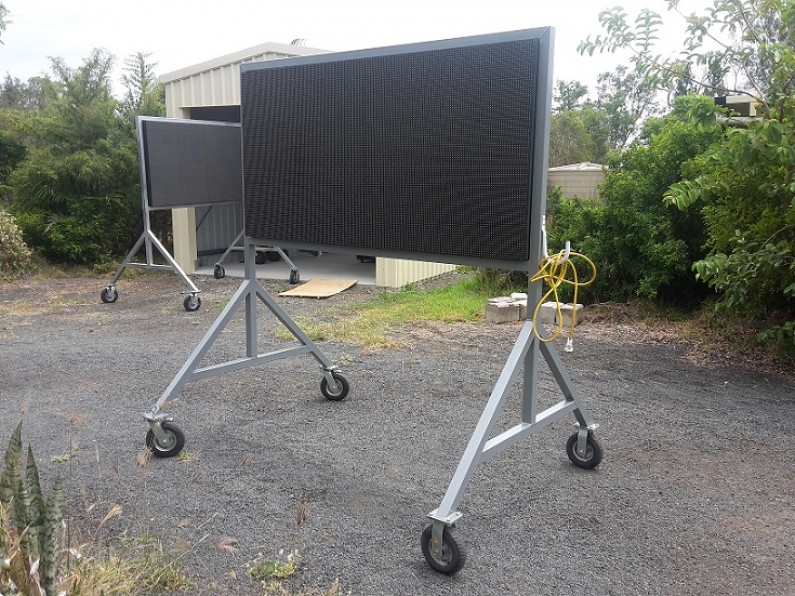 DIGITAL SIGNS - bringing you this fantastic new technology!
WHAT IS A DIGITAL BILLBOARD?
LED Screens  are also known as "LED Billboards", "Digital Billboards" and as a "Light box". They have been around for a long time now (maybe 5+ years) but for us here in New Zealand I think they have snuck up on us a little, like the frog sitting in the pot of water being heated?
AUCKLAND AIRPORT GETS ONE FEB 2015
Certainly the very large curved unit placed at the Auckland Airport by APN right on the intersection of Gorge Bolt and Tom Pearce Drives is well known to anyone who has visited the Airport http://stoppress.co.nz/didge/digital-screens-continue-their-ascent-apn-outdoor-announces-auckland-airport-plans. That particular screen is 19.75m long by 4.75 m high (a total of 94m2) but it is also impressive for being curved and having some artistic blank spots deliberately programmed in. I'm sure we'd all want one advertising our business, but costing just under a million dollars might make some think twice a bit and check the Piggy Bank?
While the Airport started going digital in February in 2015 my very good long term friend and business colleague Greg had been importing them into Australia since October 2013. Not only had I traded with him for 15 years in the last business I owned, but he had been our largest client importing our product into Australia and went on to buy that business from me.
WHO LISTENS ANY MORE EH?
For years Greg had been telling me about how fantastic these "LED Screens" were and how I should "get into them". Call me stupid but typical of most of us that are busy, I never stopped long enough to even listen to him! Why would I want a "Bar Open" flashing LED sign?!
Well I have to tell you, I've seen them now and WOW am I impressed! They are a full sized high definition TV but capable of sitting outside in the hail, wind and snow, showing a bright and clear picture 24/7 – I love these things! I WANT SOME ????
BUT WAIT - THERE'S MORE!
Any being the typical innovative entrepreneur my mate is, he's gone and stuck them on a trolley! Now any small business that used to put a mechanical Sandwich Board outside their place can wheel one of these out instead and get noticed 10 times more!
What this space!