Merry Christmas and a Happy 2019 to All!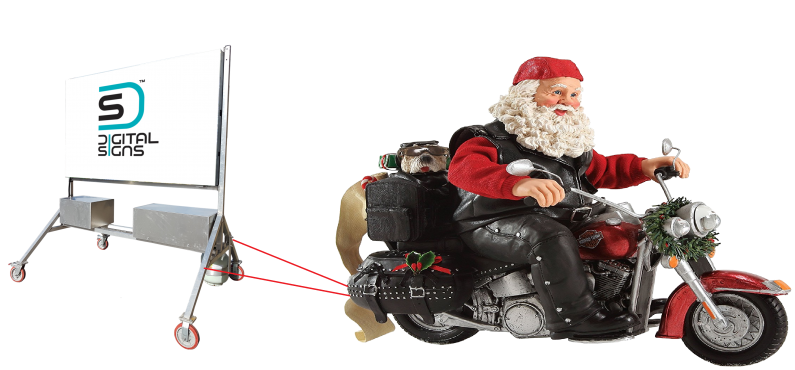 Ho, Ho, Hoooooooooooooooo
What a year! I know I am a little bit guilty of pushing my foot a little hard on the accelerator but WOW have we had a good year! Sure we've been through some of the issues that I know many of you have, but at the end of the day we 'made it' and could not be happier with our results.
I would like to give a very special thanks to the Team who all gave it their best, and to our absolutely great customers for your orders and giving us back your pictures of the installed signs looking so fantastic.
Major new customers
2018 was a year where we signed up several major clients on Exclusive Supply Agreements. We've already started to fit out some of your initial sites and we absolutely look forward to working with you over the coming years to market your business to the best that we can with our wide product range.
I'm pleased to say an increasing number of signs are now going into the South Island and even some of the smaller towns. These people must be very wise business owners if they have worked out that $60/week on a vibrant LED display is a very good use of their marketing spend!
I am very excited to have secured a relationship with a national fuel company to swap out their existing LED fuel price signs ("Price Changers") into HD LED screens where they can now not only communicate the fuel price, but also product, brand and road safety messages to their customers.
Major product enhancements
We've had battery powered for quite some time, but this year was a good year for other technical enhancements as well. After a few 'trial and error' I am pleased to announce we can now reliably produce an all weather 75mm outdoor screen for those of you who are wanting to do double-sided plinth pylon signs. You don't need to tell us your exact sign depth as each side is separate and self-mounting to be fully flush.
We've also made excellent advancements in our communication space and now do not run a CAT5 (LAN) cable virtually ever. This is making installation faster and cheaper but every bit as reliable as the old cable connection was.
We still haven't managed to crack the "one hole special" yet. It is still expensive to bring a machine into a job just to drill one hole in the ground for one pole, but we do have a very cunning plan up our sleeve for this and hope to have this in place by early 2019. Why not adapt the hiab that lifts the sign into place to drill that hole for you, now you don't even need a machine at all?
Cost savings to our clients, speed and efficiency – that's what we're all about.
Time off over Christmas
I know one of our staff is heading back to India to be able to marry his beautiful bride. Some of the others are just enjoying the break and kicking their heels up locally. Our factory will be closed from 3pm Friday 22 December through until 8:30am Monday 14 January but we will continue to be available on our 0800 number during this time for anyone wanting support.
My relaxation of choice is pushing our self-contained caravan out 'bush' to just sit in the quiet (or climb the local hill) and re-group. Of course we have all the critical necessaries such as endless hot water shower, air conditioning, microwave and 2 TVs, but other than that it's still in touch with nature isn't it?
Whatever your Christmas vacation is all the Team and Digital Signs wish you well and hope you get time to relax and enjoy family.
2019 should be good
Even though 2018 was a fast-paced year I have a funny feeling 2019 is going to be to the next level. We have our own software coming online in the first quarter and an increasing number of large format digital billboards set to go up around the country.
If you would like to join our team or JV B2B as we continue to grow please do not hesitate to drop us a line. There is strength in unity.
Merry Christmas and a Happy New Year to all!